The Joint Project ABC-DIHK together with the Bulgarian Chamber of Commerce and Industry organized 23 companies from Bulgaria, Greece, Romania, Serbia and Turkey to take part in the 41st edition of the international exhibition Bulmedica – Buldental, 8 – 11 May 2007 in Inter Expo Center, Sofia. This is the second participation of the ABC with a common stand at this exhibition.
Companies from all the ABC countries as well as companies from Croatia from the medical branch were invited to participate in this fair with an exhibition area of about 6 m 2 per company. More information about participants could be found here – list of participants. The companies demonstrated medical equipment, apparatuses and consumables, X-ray systems, modern acoustic prosthesing, cell cultures for different laboratory methods with application in microbiology and virology, digital mastographs, etc.
The event was officially opened in the presence of the Bulgarian Deputy Minister of healthcare Dr. Valeri Tsekov, the Vice President of the Bulgarian Chamber of Commerce and Industry Mr. Tsvetan Simeonov, the ABC-DIHK Project Manager Mr. Eduard Schwartz as well as other officials.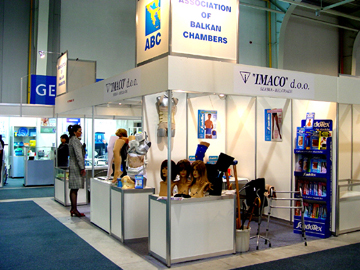 This year more than 1000 exhibitors from 45 countries took part in the Bulmedica – Buldental exhibition. They were presenting new and modern technical equipment for hospitals and medical practice, medical appliances for diagnostics, medical and dental consumables and instruments, software products, applicable in all medical activities, appliances for rehabilitation, recovery and orthopedy. Many well-known companies – producers, traders and representatives from Bulgaria /203/ and other countries like Germany /209/, Italy /99/, USA /92/, United Kingdom /34/, France /33/, China /21/, Spain /16/, Austria /12/, The Netherlands /13/ and others registered strong presence. For the first time 70 companies from Bulgaria, Slovakia, Germany, Turkey, Romania, Hungary, Russia, Greece, China, Serbia and others presented their exponents at Bulmedica – Buldental . 16 700 professionals in the field of medicine and dentistry visited the exhibition.
Bulmedica presented the latest innovations in the hospital equipment, medical diagnostic devices, haematological and biochemical analyzers, emergency response and first aid products, surgical instruments, respiratory systems, ultrasound systems, consumables for molecular genetics, medical consumables and instruments. Buldental demonstrated systems for 3D image diagnostics that are very useful for dental implants, orthodontia, oral and dental surgery. A wide range of synthetic materials for bone regeneration, the latest innovations in the field of automated production of ceramic orthopaedic constructions as well as titan implants for teeth were exhibited.

New methods for medical and dental treatment as well as modern system for bloodless biopsy SELENA and digital mammograph with MULTICARE PLATINUM detector were presented.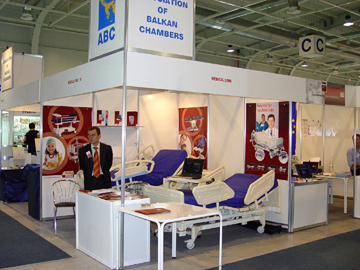 The attending program included a cooperation exchange between Bulgarian and German companies in the field of medicine, as well as seminars, workshops and presentations of modern products and services. The Bulgarian Dental Association implemented an International congress on Modern Concepts in Dental Medicine.
All exhibitors at the common ABC stand accepted it very well. Half of them appreciate the preparation and the organization of the common stand as very good. The general assessment for the carrying out of the event is also very good. The level of the partners met is medium. According to the participants the results of the activity correspond 65% to their expectations.
The ABC was promoted as institution at the common ABC stand by acquainting a large public with information about its task, work and targets by its main information desk, where a brochures, leaflets, guides and all kind of information materials were spread – ABC-DIHK brochure, Balkan Fairs and Exhibitions, materials provided by the Serbian Chamber of Commerce and TOBB. Almost all of the exhibitors at the ABC stand at the Bulmedica-Buldental Exhibition estimate that they know more about the ABC after their participation in this event.
Business centre
Bulgarian Chamber of Commerce and Industry