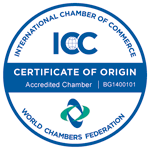 BCCI is the only organisation in Bulgaria accredited by
International Chamber of Commerce World Chamber Federation to
issue Certificates of Origin
BCCI is authorized to issue non-preferential Certificates of Origin
with Permit No. Р-545 /32-204903/24.07.2017 of the Director of
the Bulgarian Customs Agency, pursuant to Art. 16h, para 1 of
the Customs Act of the Republic of Bulgaria
The Bulgarian Chamber of Commerce and Industry issues and certifies various documents assisting Bulgarian tradesmen in carrying out their foreign trade activities.
Certificates of origin of goods:
Tariff of rates of services (Art. 3, items 1 – 4)
Validation of signatures
Validation of signatures of the official representatives of the companies affixed on various foreign trade documents, such as letters, invoices, contracts, declarations, price-lists etc.
Tariff of rates of services (Art. 3, item 5)